The SCALES Conference will take place on the week of June 26–30th 2023, on the campus of the Johannes Gutenberg University.
Conference
M3ODEL and its partners are happy to announce the 1st Conference on Multiscale Modeling of Complex Systems or SCALES Conference, focused on methods on multiscale modeling and their interdisciplinary applications. The program is organized around sessions that emphasize methods in multiscale modeling, but the goal is to enable interesting and fruitful discussions by engaging people from different fields in each session.
Planned sessions and invited speakers include:
Stochastic models
HPC & Machine learning

G. Karniadakis, A. Tkatchenko, L. Räss

Uncertainty quantification & inverse methods
Multiscale Methods

E. Tadmor, M. Deserno, G. Hummer, W. Grabowski

Interdisciplinary applications

T. Gerya, H. Wernli, M. Doi, M. Nuñez Valdez, V. Ehrlacher, D. May
Information on Registration
You can now register for SCALES until April 30th.  Please follow this link.
The registration fee for the conference is €200, which includes lunch at the conference venue and the social event on Thursday evening. Failure to register and to pay the conference fee will result in the participant's name being removed from the Conference Programme and the List of Participants.
Abstract Submission
We ask that you prepare your abstract using one of our templates for Word or LaTex, which you can download here. Abstract length is limited to a maximum full page in A5 format, short references and no images.
To submit your abstract, you first need to register and create an user account. Only then you will be able to proceed with the abstract submission. Please click the red box "Submit a paper", as shown in the image below. You can submit more than one abstract.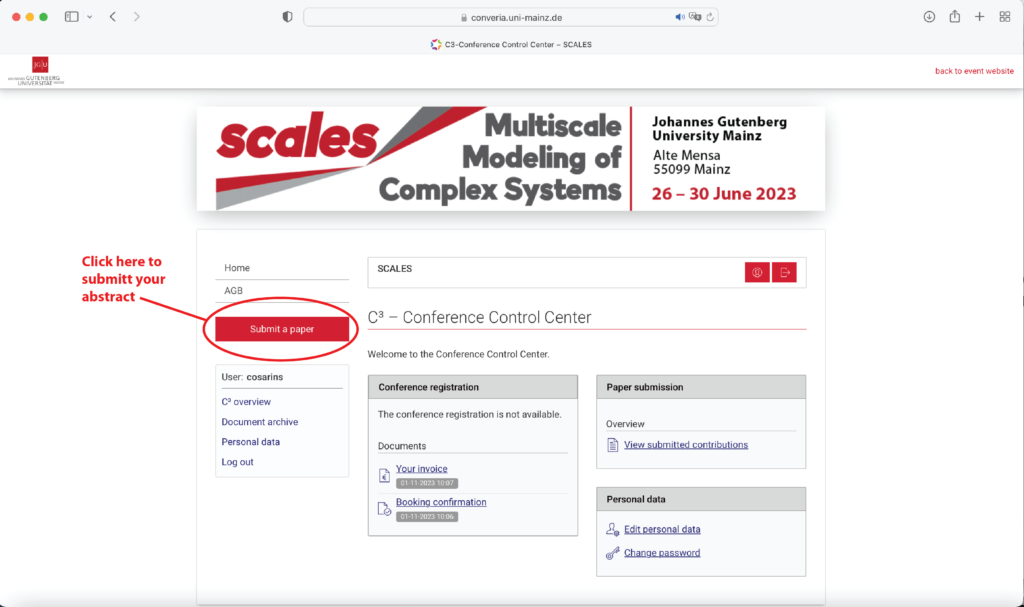 Due to time constraints, oral presentations are reserved for invited speakers and for only a few contributed submissions. All other contributions will be accepted as poster presentations. We will notify you if your submission is chosen for an oral presentation. Thank you for your understanding and we look forward to your participation.
The deadline for abstract submission is April 17th.
Workshop on HPC at the University in Mainz
There will be a pre-conference workshop the day before the conference starts, especially designed for students, on the use of high-performance computing using the programming language Julia. The workshop will include lectures and hands-on exercises and will be taught by L. Räss (ETH Zurich) and B. Kaus (JGU Mainz); a computer is thus required. The workshop will take place on the campus of the Johannes Gutenberg University.
Due to the limited number of participants, we can only accept 50 participants. Spots will be assigned on a first-come-first-served basis. We will inform participants after the registration is closed.
In order to register for the workshop, you first need to make the selections for the conference in the "Conference Participation" box, click "Select", then make the selection on the workshop box, and click "Select". At the bottom you will see a gray box with the number of selected offers (it should be 2), which you can click and confirm your selections. To finalize the registration, click on "Confirm selection and continue".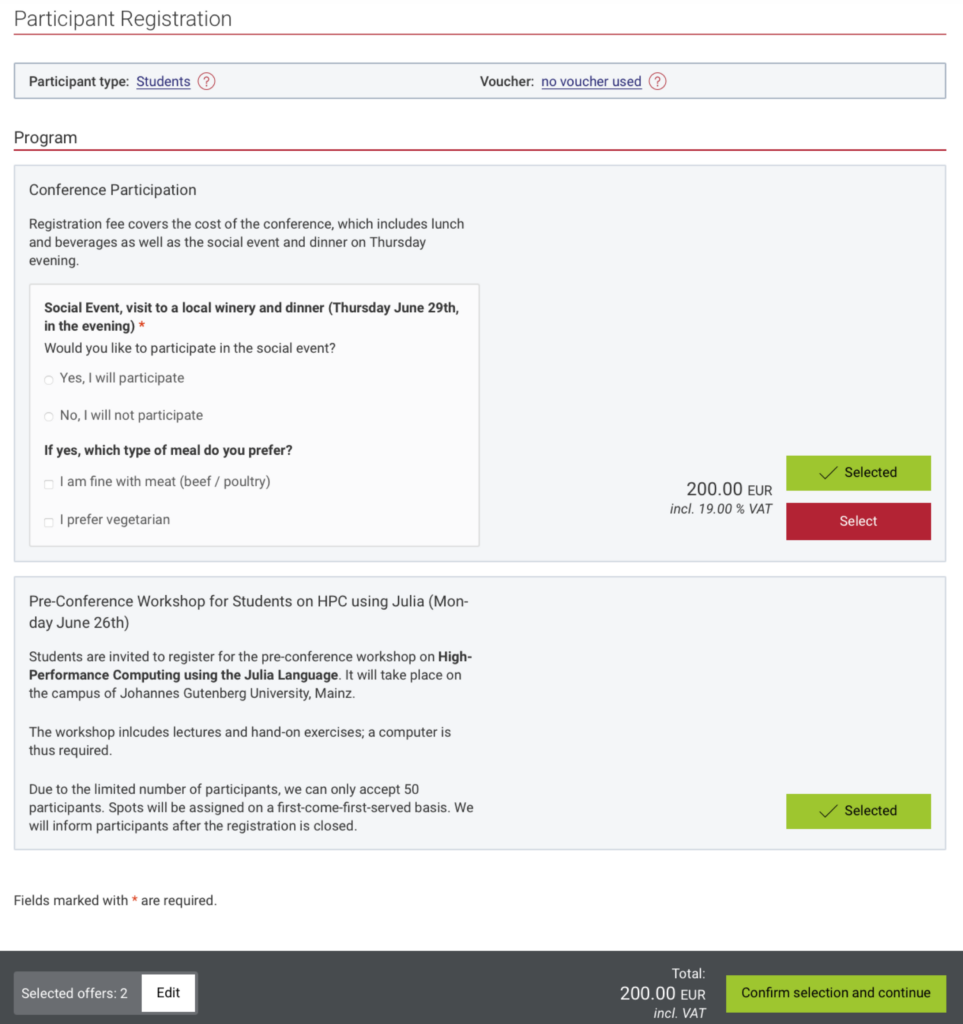 Venue: Campus of the JGU Mainz
The meeting will take place on the campus of the Johannes Gutenberg University in Mainz. Oral and poster sessions are located in the lecture hall Atrium Maximum and Linke Aula of the Alte Mensa Building.
The campus is easy to reach from the Mainz main train station or city center by public transport (RMV):
Tram lines 51, 53, 59: stop Universität
Bus lines 6, 9, 54, 55, 56, 57, 58, 630, 68, 78, 79, (night bus lines 90, 91, 93): stop Universität
Bus line 9: stop Johannes-von-Müller-Weg
Bus line 57: stop Botanischer Garten
Conference Dinner
A social event will take place on Thursday June 29th and will include a visit to the
Wine Estate Schloss Vollrads
and dinner. If you would like to participate, please select this option on the registration page and indicate what type of meal you prefer.